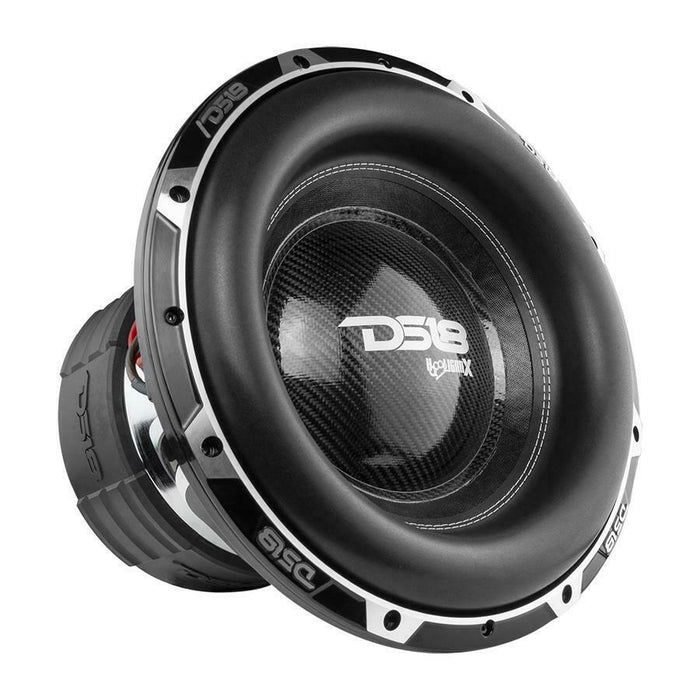 DS18 Hooligan X 15" 6000 Watt 4"DVC 2 Ohm High Excursion Competition Subwoofer
DS18 Hooligan X 15" 6000 Watt 4" DVC 2 Ohm High Excursion Competition Subwoofer

The DS18 Hooligan X15 2 Ohm has already been proven to provide top-end performance and bass now for 6 years on the streets and in the lanes, hooligans have been a choice of music lovers and competitors alike. We have taken the Traditional Hooligan and revamped it in our newest revision, the Hooligan X15 High Excursion subwoofer. This model features a long-throw pole, larger spider, and high excursion surround to lower the FS of the speaker making it louder at subsonic frequencies. This massive sub will be great for high-powered music or SPL. An FS of 26 will ensure deep lows down to 20hz and great punchy bass up around 40hz depending on your box tuning. This subwoofer is rated at 4000w RMS and 6000w max so your vehicle will require electrical upgrades and large wire. This sub will be friendly to 4th orders, 6th orders, ported boxes, and large sealed boxes and can be used in most applications that have room for the box. With a 59mm one-way XMAX, this sub is sure to pump out extreme decibels with the proper power and box setup. We recommend a tuning of 25-35hz for ported boxes depending on your goals.

This Listing Includes:
(1) DS18 Hooligan 15" Subwoofer 2-Ohm

Highlights -

-High-powered 4" Black Aluminum voice coil handling 4000w RMS and 6000w max power for heavy-hitting competition bass.
-We have added a large high excursion surround to help with the high pole-to-pole
flex this subwoofer has giving it has a 59mm one-way xmax!
-We have also added a larger spider that helps lower the FS (Resonant Frequency) so this sub plays lower much louder than previous versions.
-4-inch black aluminum voice coil handling a massive 4000w RMS and 6000w peak will be sure to get this subwoofer moving with hurricane wind forces.
-The DS18 Tooled Black basket is one of the slickest and best-looking baskets on the market. Not only extremely strong but looks great so you can use plexiglass or mount inverted on your box to see the show quality frame and motor topped off by a carbon fiber dust cap.
-A huge 500oz magnet will help the voice coil receive and handle the massive power this sub requires with high efficiency and durability.

SPECIFICATIONS
Nominal Diameter 15"
Nominal Impedance 2 + 2 Ohm
RMS Power Handling 4000W
MAX Power Handling 6000W
Sensitivity (1w/1m) 88.2 dB
Frequency Response 16-500Hz
Recommended Lo Pass Crossover 80Hz

MOTOR
Voice Coil Diameter 4" / 99.8mm
VC Former Material Black Aluminum
Winding Material CCAW
Cone Material Non-Pressed Paper
Dust Cap Material Carbon Fiber
Surround Material Foam
Basket Material Aluminum
Basket Color and Finish Sandblasted Black
Magnet Material Ferrite
Magnet Weight 500 Oz
Displacement Volume 9.1L / 0.32 ft3

THIELE & SMALL PARAMETERS
Equivalent Volume Vas 61.93 L /2.18 ft3
Excursion (one way) Xmax 59 mm
Free Air Resonance Fs 26 Hz
Mechanical Factor Qms 4.98
Electrical Factor Qes 0.513
Total Factor Qts 0.402
Mechanical Mass Mms 478.64 g
Mechanical Compliance Cms 0.025 mm/N
BL Factor BL 15.83
Voice Coil Inductance Le 2.517 mH
Cone Area 754.77 Cm2
DC Resistance 1.9+1.9 ohms
Efficiency Bandwidth Product 50.6

MEASUREMENTS
Overall Diameter 15.56" / 395mm
Overall Depth 13.31" / 338mm
Front Mount Baffle Cutout 14.10" / 358mm
Mounting Depth 11.19" / 284mm
Motor Diameter 9.96" / 253mm

Weight: 81.5 lbs.
Payment Information
We accept PayPal for all ebay orders. You can use your credit through PayPal as all major credit card are accepted by PayPal.
We accept PayPal for all international orders, your address must be verified with PayPal.
We are not responsible for any custom duties or brokerage fees that may apply for all international orders.
When you click on the Buy it Now button you are entering into a
contract whereby you agree to purchasing the item at the price listed.
If you want to ship your item to an alternate address please add
that address on your PayPal account and use the address as the default
or confirmed address to pay us through PayPal
With Free Same Business Day Shipping we work to get you your order Fast. 
All orders over $500 will require a signature for delivery.
All pre-selected shipping rates and methods are for customers with a
valid residential or commercial address within the Contiguous 48 United
States (PO Boxes address may require additional charges).
P.O. Boxes, APO/FPO addresses, Alaska, Hawaii, Puerto Rico, Guam,
U.S. Virgin Islands, Northern Mariana Islands, American Samoa, Canada,
and other countries may require additional shipping fees. Please contact
a member of our team for detailed shipping charges.
Shipping is available only to PayPal verified addresses. When making
payment please confirm your address has been verified with PayPal. Once
payment is made shipping address can not be changed/altered. Payments
made using an unverified PayPal address will be refunded and order will
be canceled.

We will not accept request to change shipping address once payment
has been made. Please confirm your shipping address is up-to-date and
valid.
Typical handling time for orders is 1-business day. We do our best
to ship every package with-in 1 business day of receiving a cleared
payment. In some circumstances additional time may be need, in which
case we will contact buyer.
Shipped orders that are returned by the shipping company due to an
insufficient address or an undeliverable address will be refunded less a
20% restocking fee.
If package is refused or marked undeliverable and returned
back to us by the carrier, you will need to pay the shipping cost in
full to have the package sent back to you or we can refund the money
minus the cost of shipping
MISSING A PACKAGE?
If you have not received your package, but the tracking information shows that it was delivered,
please do the following within 36 hours of expected, stated delivery:
Verify the shipping address on the order is the address where you are looking for the package
Look for a notice of attempted delivery
Look around the delivery location for the package, or see if a neighbor has accepted the delivery
Be sure to double check your mailbox and other usual spots for package delivery
If you think that your package has been stolen, we will require a police report since this is now theft.
Once we have a police report on file for the stolen package, we will reship your order.