Check if this fits
your vehicle
Change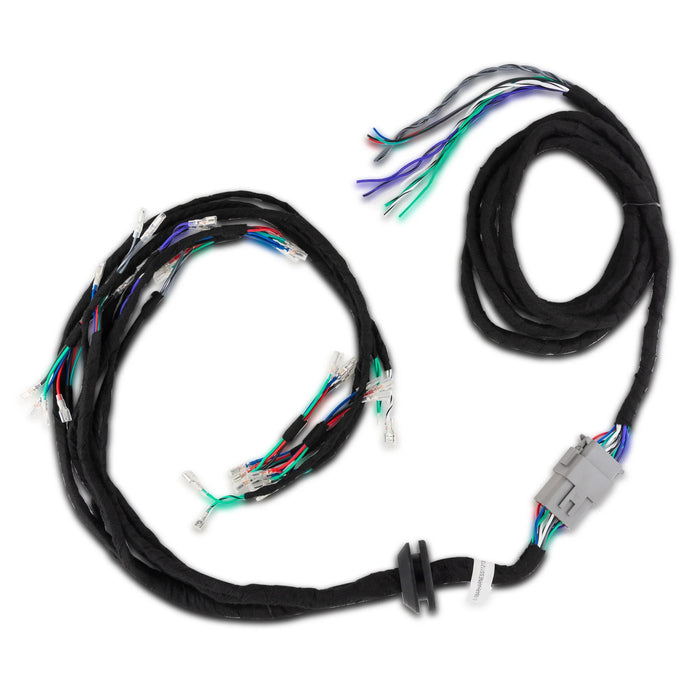 DS18 Plug & Play Harness for Jeep JL-SBAR Overhead Bar System JL-SBARHARNESS
Color Coded Pre-Wired Harness: Effortless Installation with Clearly Marked Wiring, Detailed Installation Manual: Step-by-Step Guide for Easy Setup, Labeled Inputs and Outputs: Simplified Identification for Hassle-Free Connections, Time-Saving Installation: Reduced Setup Duration by Hours, DS18 LED-BTC Integration: Incorporating RGB Light Control with DS18 LED-BTC
Detailed Installation Manual: Step-by-Step Guide for Easy Setup
Labeled Inputs and Outputs: Simplified Identification for Hassle-Free Connections
Time-Saving Installation: Reduced Setup Duration by Hours
DS18 LED-BTC Integration: Incorporating RGB Light Control with DS18 LED-BTC
Multi-Channel Amplifier Inputs: Flexible Connectivity for 4/5/6 Channel Amplifiers
DS18 Plug & Play Harness for Jeep JL-SBAR Overhead Bar System JL-SBARHARNESS
This Listing Includes:


(1) DS18 Plug & Play Harness for Jeep JL-SBAR Overhead Bar System


This harness is an essential addition for any JL/JT Jeep owner with DS18's JL/JT-SBAR!
Say goodbye to the hassle of routing hundreds of feet of wiring. With the JL-SBARHARNESS, you can connect your amplifier, LED BTC RGB control module, and all speakers in your sound bar effortlessly. The color-coded pre-wired harness and detailed manual ensure a smooth and straightforward installation process.
No more guesswork or confusion - all outputs and inputs are clearly labeled for easy identification. This not only saves you time but also eliminates the frustration of trying to figure out which wire goes where.
By using the JL-SBARHARNESS, you can cut down on installation time by hours. Spend less time dealing with complicated wiring and more time enjoying your music on the road.
Designed specifically for use with DS18 JL/JT-SBAR's, this harness seamlessly integrates the DS18 LED-BTC (RGB Light controller). Experience a stunning light show that enhances your soundbar's visual appeal.
The JL-SBARHARNESS also provides inputs for 4/5/6 channel amplifiers, allowing you to customize your sound system to suit your preferences. Unlock the full potential of your sound bar and enjoy a truly immersive audio experience.
Don't let complicated wiring hold you back. Upgrade your Jeep with DS18's JL-SBARHARNESS and enjoy hassle-free installation and superior sound quality.
*SPEAKERS, LED-BTC, and JL/JT-SBAR NOT INCLUDED*
Specifications:


Compatible with: Jeep JL / JLU / JT (JL-SBAR)


What is included: Harness kit OFC with all factory style connectors and terminals


What you will need: Any 4/5/6 Channels Amplifier, LED RGB Control module (LED-BTC), Sound bar for Jeep JL / JLU / JT (JL-SBAR), 4 x 8†Speakers (NXL8 recommended), 4 x 1.75†Tweeters (PRO-TW4L recommended)


Features:


Color Coded Pre-Wired Harness: Effortless Installation with Clearly Marked Wiring


Detailed Installation Manual: Step-by-Step Guide for Easy Setup


Labeled Inputs and Outputs: Simplified Identification for Hassle-Free Connections


Time-Saving Installation: Reduced Setup Duration by Hours


DS18 LED-BTC Integration: Incorporating RGB Light Control with DS18 LED-BTC


Multi-Channel Amplifier Inputs: Flexible Connectivity for 4/5/6 Channel Amplifiers


Payment Information
We accept PayPal for all ebay orders. You can use your credit through PayPal as all major credit card are accepted by PayPal.
We accept PayPal for all international orders, your address must be verified with PayPal.
We are not responsible for any custom duties or brokerage fees that may apply for all international orders.
When you click on the Buy it Now button you are entering into a
contract whereby you agree to purchasing the item at the price listed.
If you want to ship your item to an alternate address please add
that address on your PayPal account and use the address as the default
or confirmed address to pay us through PayPal
With Free Same Business Day Shipping we work to get you your order Fast. 
All orders over $500 will require a signature for delivery.
All pre-selected shipping rates and methods are for customers with a
valid residential or commercial address within the Contiguous 48 United
States (PO Boxes address may require additional charges).
P.O. Boxes, APO/FPO addresses, Alaska, Hawaii, Puerto Rico, Guam,
U.S. Virgin Islands, Northern Mariana Islands, American Samoa, Canada,
and other countries may require additional shipping fees. Please contact
a member of our team for detailed shipping charges.
Shipping is available only to PayPal verified addresses. When making
payment please confirm your address has been verified with PayPal. Once
payment is made shipping address can not be changed/altered. Payments
made using an unverified PayPal address will be refunded and order will
be canceled.

We will not accept request to change shipping address once payment
has been made. Please confirm your shipping address is up-to-date and
valid.
Typical handling time for orders is 1-business day. We do our best
to ship every package with-in 1 business day of receiving a cleared
payment. In some circumstances additional time may be need, in which
case we will contact buyer.
Shipped orders that are returned by the shipping company due to an
insufficient address or an undeliverable address will be refunded less a
20% restocking fee.
If package is refused or marked undeliverable and returned
back to us by the carrier, you will need to pay the shipping cost in
full to have the package sent back to you or we can refund the money
minus the cost of shipping
MISSING A PACKAGE?
If you have not received your package, but the tracking information shows that it was delivered,
please do the following within 36 hours of expected, stated delivery:
Verify the shipping address on the order is the address where you are looking for the package
Look for a notice of attempted delivery
Look around the delivery location for the package, or see if a neighbor has accepted the delivery
Be sure to double check your mailbox and other usual spots for package delivery
If you think that your package has been stolen, we will require a police report since this is now theft.
Once we have a police report on file for the stolen package, we will reship your order.