Check if this fits
your vehicle
Change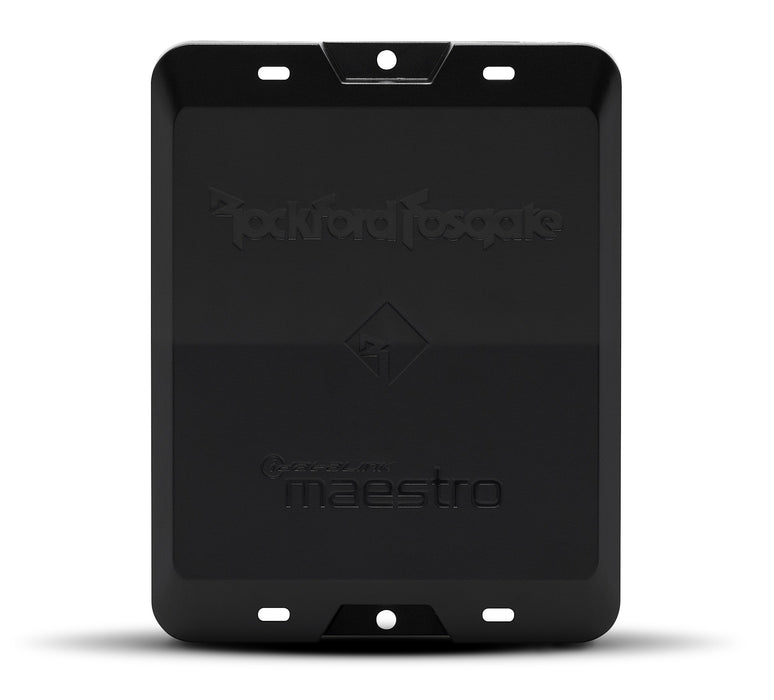 Rockford Fosgate All-In-One Digital Sound Processor & Amplifier Replacement DSR1
Digital Signal Processing with Integrated Maestro CAN Interface
Four Channel Balanced Differential RCA Inputs
Four Channel High Level Inputs with Signal Sense Turn On
Rockford Fosgate All-In-One Digital Sound Processor & Amplifier Replacement DSR1
This listing includes:


(1) DSR1 Digital Sound Processor


(1) 7" microUSB-to-USB cable


(1) 18-pin input harness


(1) 16-pin output harness


(1) Quick-Start Guide


Co-developed with iDatalink Maestro, the DSR1 combines a full-featured 3Sixty digital signal processor with a flashable Maestro integration module. The DSR1 can be used out-of-the-box with high or low level input, or with a quick flash download to add vehicle specific firmware to enable integration without the loss of factory equipped controls and features. Once connected, complete control of the sound profile can be adjusted using the proprietary Rockford Fosgate PerfectTune software.
Download PerfectTune on the App Store or Google Play to control the DSR1.
The DSR1 is the first real solution for replacing the factory amplifier and speakers in Ford and Chrysler vehicles, as the DSR1 uses the full-range, flat audio signal from the factory source unit.
After the built-in Maestro interface is flashed with the vehicle-specific firmware, the factory source unit CANbus messages are used to control the internal signal routing of the DSR1. The DSR1 still utilizes the power processor found in our patented 3Sixty.3, but adds an easy to use app for tuning from Apple and Android devices.
Highlights:


18 Pin Analog Input Harness


16 Pin Analog Output Harness


Micro USB Setup/Update Port


Designed for use with Select Maestro Vehicle T-Harnesses


Auxiliary RCA and SPDIF Coaxial Inputs


Optional PLC2 Level Controller with Assignable Functions


245 Bands of Equalization for Aftermarket Tuning


Adjustable crossovers with selectable slope


Up 10msec of delay on each channel for Time Alignment


Bluetooth 4.0 Connectivity for convenient setup


Interactive Tuning Interface Controlled via Android/ iOS APP


CE and FCC Compliant


1 Year Warranty


Features:


Digital Processor


Mounting: Behind Dash


Input Impedance: 20k Ohm


Output Impedance: 200 Ohm


Signal Input:


4 Balanced Differential RCA Inputs


4 High-Level Inputs w/ Signal Sense


2 AUX RCA Inputs


SPDIF Coaxial Input


Operating Voltage: 9-16 VDC


Frequency Response: 20Hz - 20kHz +/- 0.5dB


Signal Output: 8 RCA Outputs


Input Voltage:


Low Level (RCA): up to 4V


High Level: up to 12.5V


High Level Turn-On: 4V - 16V


AUX: up to 2V


Output Voltage: up to 4V RMS


Digital Signal Processing (DSP) Speed: 147 MIPS


Precision: 32-Bit


Accumulators: 72-bit


DAC Precision: 24-Bit


Dynamic Range: 108 dB


THD+N: -98 dB


ADC: Precision: 24-Bit


Dynamic Range: 105 dB


THD+N:-98 dB


Crossover Frequency: Variable: 20 Hz to 10 kHz


Crossover Slope: Selectable Slope: 6/12/18/24/30/36/48 dB/Octave


EQ Frequency Centers: Channels: Front/Spare/Rear/Sub


Frequency Bands: 31 per channel


Smartphone App: App Store / Google Play


Smartphone Compatibility:


APPLE: iOS 10.0 or later (iPhone, iPad, iPod touch)


ANDROID: Marshmallow 6.0 or later (optimized for 5-inch screen or larger)


EQ Frequency Controls: Selectable Q: 0.01 to 10.0


T-Harnesses Available: HRN-AR-F02, HRN-AR-F03, HRN-AR-CH2, HRN-AR-CH3, HRN-AR-CH4, HRN-AR-T01, HRN-AR-TO2, HRN-AR-TO3


Dimensions (H x W x D):
Payment Information
We accept PayPal for all ebay orders. You can use your credit through PayPal as all major credit card are accepted by PayPal.
We accept PayPal for all international orders, your address must be verified with PayPal.
We are not responsible for any custom duties or brokerage fees that may apply for all international orders.
When you click on the Buy it Now button you are entering into a
contract whereby you agree to purchasing the item at the price listed.
If you want to ship your item to an alternate address please add
that address on your PayPal account and use the address as the default
or confirmed address to pay us through PayPal
With Free Same Business Day Shipping we work to get you your order Fast. 
All orders over $500 will require a signature for delivery.
All pre-selected shipping rates and methods are for customers with a
valid residential or commercial address within the Contiguous 48 United
States (PO Boxes address may require additional charges).
P.O. Boxes, APO/FPO addresses, Alaska, Hawaii, Puerto Rico, Guam,
U.S. Virgin Islands, Northern Mariana Islands, American Samoa, Canada,
and other countries may require additional shipping fees. Please contact
a member of our team for detailed shipping charges.
Shipping is available only to PayPal verified addresses. When making
payment please confirm your address has been verified with PayPal. Once
payment is made shipping address can not be changed/altered. Payments
made using an unverified PayPal address will be refunded and order will
be canceled.

We will not accept request to change shipping address once payment
has been made. Please confirm your shipping address is up-to-date and
valid.
Typical handling time for orders is 1-business day. We do our best
to ship every package with-in 1 business day of receiving a cleared
payment. In some circumstances additional time may be need, in which
case we will contact buyer.
Shipped orders that are returned by the shipping company due to an
insufficient address or an undeliverable address will be refunded less a
20% restocking fee.
If package is refused or marked undeliverable and returned
back to us by the carrier, you will need to pay the shipping cost in
full to have the package sent back to you or we can refund the money
minus the cost of shipping
MISSING A PACKAGE?
If you have not received your package, but the tracking information shows that it was delivered,
please do the following within 36 hours of expected, stated delivery:
Verify the shipping address on the order is the address where you are looking for the package
Look for a notice of attempted delivery
Look around the delivery location for the package, or see if a neighbor has accepted the delivery
Be sure to double check your mailbox and other usual spots for package delivery
If you think that your package has been stolen, we will require a police report since this is now theft.
Once we have a police report on file for the stolen package, we will reship your order.