Check if this fits
your vehicle
Change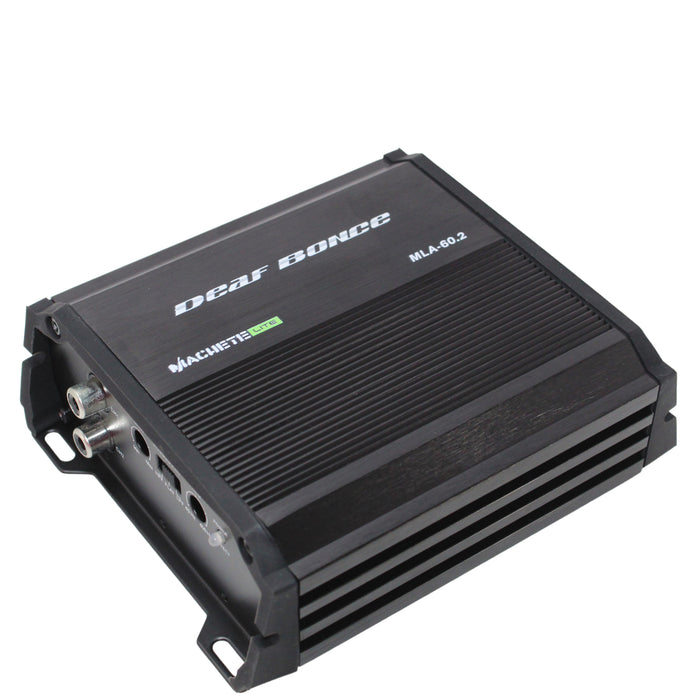 Deaf Bonce Machete 180W 2 ohm Class D 2-Channel Full Range Amplifier MLA-60.2
Flexible Speaker Matching: Perfectly suited for a variety of speaker setups, capable of driving both full-range and subwoofer units effectively
Bridged Mode Capability: Allows for combining channels to boost power output for driving a single, more robust subwoofer, enhancing low-frequency performance
Customized Audio Adjustment: Features both low and high pass filters, enabling detailed customization of the audio output for balanced bass and treble
Space-Saving Class D Technology: Utilizes Class D amplification for minimal physical footprint while ensuring maximum efficiency and power
High-Fidelity Audio Output: Boasts a superior signal-to-noise ratio, ensuring clear and undistorted audio quality even at higher volumes
Deaf Bonce Machete 180W 2 ohm RMS Class D 2-Channel Full Range Amplifier MLA-60.2
This Listing Includes:


(1) MACHETE MLA-60.2 2-Channel Amplifier


The MACHETE MLA-60.2 emerges as an exceptional choice for enhancing your car audio experience. This 2-channel Class D amplifier is a compact powerhouse, delivering 60 watts RMS per channel at 4 Ohms. It's an ideal solution for upgrading your car's audio system, providing both high-quality sound and efficient power utilization.
Specifications:


Model: MLA-60.2


Class: D


Number of Channels: 2


Frequency Response: 20-20000 Hz


2 Ohm RMS Power (14.4 V): 90 W x 2


4 Ohm RMS Power (14.4 V): 60 W x 2


4 Ohm RMS Power (Bridge): 180 W x 1


Minimum Permissible Load on the Channel: 2 Ohm


Minimum Permissible Load in a Bridge Connection: 4 Ohm


Low Pass Filter: 40-400 Hz


High Pass Filter: 40-400 Hz


Crossover: 12 dB/Oct


Input Terminal: 4 Ga


Output Terminal: 8 Ga


Working Voltage: 9 - 15V


Signal-to-Noise Ratio: â 85 dB


Size (WxLxH): 5.2 x 4.3 x 1.7 inches


Features:


Versatile Speaker Compatibility: Ideal for various speaker configurations, suitable for full-range and subwoofers.


Bridgeable Design: Enhances power output for single subwoofer setups.


Precise Audio Customization: Equipped with low and high pass filters for detailed audio control.


Efficient and Compact: Class D technology ensures efficient power usage in a compact design.


Clear Audio Quality: High signal-to-noise ratio for crisp, unclouded sound reproduction.


Payment Information
We accept PayPal for all ebay orders. You can use your credit through PayPal as all major credit card are accepted by PayPal.
We accept PayPal for all international orders, your address must be verified with PayPal.
We are not responsible for any custom duties or brokerage fees that may apply for all international orders.
When you click on the Buy it Now button you are entering into a
contract whereby you agree to purchasing the item at the price listed.
If you want to ship your item to an alternate address please add
that address on your PayPal account and use the address as the default
or confirmed address to pay us through PayPal
With Free Same Business Day Shipping we work to get you your order Fast. 
All orders over $500 will require a signature for delivery.
All pre-selected shipping rates and methods are for customers with a
valid residential or commercial address within the Contiguous 48 United
States (PO Boxes address may require additional charges).
P.O. Boxes, APO/FPO addresses, Alaska, Hawaii, Puerto Rico, Guam,
U.S. Virgin Islands, Northern Mariana Islands, American Samoa, Canada,
and other countries may require additional shipping fees. Please contact
a member of our team for detailed shipping charges.
Shipping is available only to PayPal verified addresses. When making
payment please confirm your address has been verified with PayPal. Once
payment is made shipping address can not be changed/altered. Payments
made using an unverified PayPal address will be refunded and order will
be canceled.

We will not accept request to change shipping address once payment
has been made. Please confirm your shipping address is up-to-date and
valid.
Typical handling time for orders is 1-business day. We do our best
to ship every package with-in 1 business day of receiving a cleared
payment. In some circumstances additional time may be need, in which
case we will contact buyer.
Shipped orders that are returned by the shipping company due to an
insufficient address or an undeliverable address will be refunded less a
20% restocking fee.
If package is refused or marked undeliverable and returned
back to us by the carrier, you will need to pay the shipping cost in
full to have the package sent back to you or we can refund the money
minus the cost of shipping
MISSING A PACKAGE?
If you have not received your package, but the tracking information shows that it was delivered,
please do the following within 36 hours of expected, stated delivery:
Verify the shipping address on the order is the address where you are looking for the package
Look for a notice of attempted delivery
Look around the delivery location for the package, or see if a neighbor has accepted the delivery
Be sure to double check your mailbox and other usual spots for package delivery
If you think that your package has been stolen, we will require a police report since this is now theft.
Once we have a police report on file for the stolen package, we will reship your order.