Check if this fits
your vehicle
Change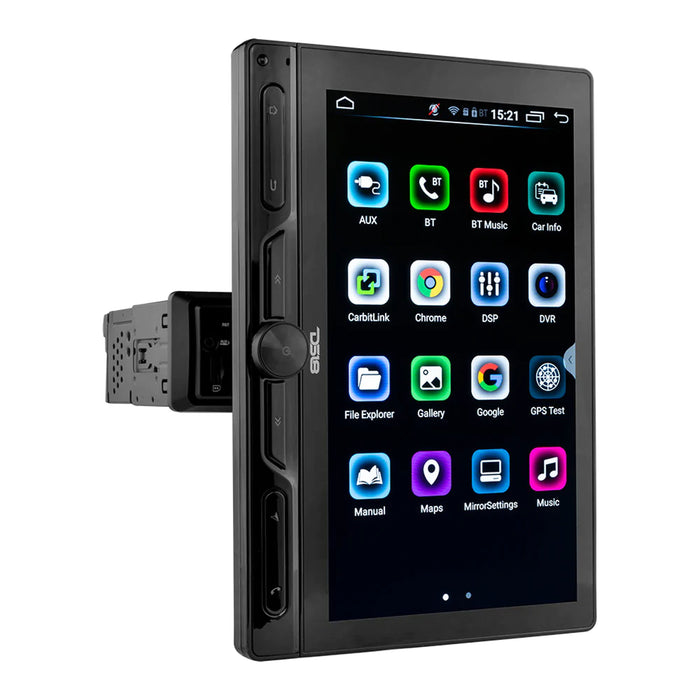 DS18 10.5" Bluetooth Radio 1DIN Mirror-Link USB/SD/AUX + Remote & DSP DDX10.5ADX
Android 10 System with 4+64 GB of memory
Full 14 Band EQ and Subwoofer LPF
Built in , Aux, SD Reader (64GB), 1.5a USB charging, AUX Input, AM/FM Tuner, and USB connections (1 front and 2 rear)
RCA inputs so you can view external sources video easily via source.
Camera Inputs included so you can plug and play most types of back up cameras.
DS18s DDX10.5ADX Receiver takes everything our customers loved about the DDX6.9ML Double Din Multimedia Receiver but upgraded the screen from 6.9 to an incredible 10.5 and made it Single-DIN for Perfect Fit Modular Mounting!



The Flawless Touch Screen Control supported by all DS18s Receivers returns for seamless maneuvering through the numerous features available in this upgraded model.



This receiver will include everything you need to bring your multimedia dreams including Mirror Link, Wi-Fi, Bluetooth, AUX, USB, SD, phone controls, and all your AM / FM stations.



Connecting your head unit to your mobile hotspot makes accessing the downloadable apps available to this receiver much easier and the built in SD Reader allows you to access 64GB of memory.



These receivers are mechless; this means that they dont support the play of compact discs and only play music back from digital media players. Thats why weve included so many options for playing music back from your digital devices.



This receivers built in DSP (Digital Signal Processor) 8 Channel 6 Volt output allows you to tune signals from various inputs various inputs in conjunction with your Equalizer and get your speakers to play the way they were designed to: without distortion and extremely LOUD!



The built in Digital Video Recorder built for the cameras installed in this receiver guarantees your safety and authority on the road.



Set up Mirror link to display all media from your phone on the device, but a mobile hotspot is required for GPS functions if you are not using mirror link.



This receiver does it all and has the power to support it: with 4CH x 18W RMS and 4CH x 54W MAX at 4 ohms this receiver has just enough power to charge most entry level speakers.



Highlights



- 10.5 (Wide 16:9) Full HD (1280x720 pixels) Single-Din touchscreen to maximize your viewing and allow perfect fit modular mounting.

- Android 10 System with 4+64 GB of memory.

- Full 14 Band EQ and Subwoofer LPF.

- Built in , Aux, SD Reader (64GB), 1.5a USB charging, AUX Input, AM/FM Tuner, and USB connections 3 (1 front and 2 rear).

- HDMI Outputs for full size monitor use.

- Wireless remote control for easy operation.

- RCA inputs so you can view external sources video easily via source.

- Multi Colored Backlit Keys for easy use in dim settings.

- MIC in options for easy phone operation and built in controls.

- Camera (front and rear) Inputs included so you can plug and play most types of back up cameras.

- Apple and Android compatible.



General:



- 10.5" Floating display multimedia receiver.

- Single DIN in dash (Perfect fit) modular mounting

- Rotatable 180 degree screen with adjustable angle, tilt, and height position.

- BT 5.0v for more range and sound quality.

- Professional 8 channels DSP with 6 volts pre-output

- Latest android 10 system with 4+64Gb capacity

- Quad core A53 1.5GHz Processor for faster operation

- AM/FM Radio with 12 presets and 30 favorite stations

- RDS to display the information of the radio station

- DVR using front and rear HD cameras like a dashcam

- USB and SD media files supported: RMVD, MPG4, DivX, AVI, MP3, WMA, JPEG.



Display:



- Full HD 10.5" IPS display (1280x720) resolution

- Capacitive touch screen

- Support 1080p video display

- Dynamic multi-color LED Backlight



Audio:



- 54W x 4 Max power speaker output

- 14 Bands parametric equalizer

- 5.1 / 2 Way / 3 Way pre-output mode

- Time delay up to 12ms or 400.8cm

- Crossover totally adjustable from 6 to 48 dB/Oct

- 8 Channels Hi-Volt RCA Pre-output



Connectivity:



- Mirror Link for iOS and Android phones

- BT Audio streaming and hands free for cell phones

- Wi-FI and GPS Built-in

- HDMI Video output for full HD monitors

- Dual video output selectable

- Wired remote input for steering wheel control interface

- Front USB port with 1.5 Amp charger and dual rear USB

- Front audio jack input

- Video and Audio input (RCA)

- Rear and front camera input

- Support for CCD or AHD 1080p Cameras

- External mic and GPS antenna is included



This listing includes:



- (1) DS18 10.5" Bluetooth Radio 1DIN Mirror-Link USB/SD/AUX + Remote & DSP DDX10.5ADX



Package Dimensions:



- Length: 13"

- Width: 11.5"

- Height: 10"

- Package Weight: 7 lbs



Item Dimensions:



- Chassis: 7" x 1.96" x 4.52"

- Bezel Frame: 6.69" x 1.81" x 0.19"

- Screen Frame: 10.5" x 7"

- Weight: 4.5lb
Payment Information
We accept PayPal for all ebay orders. You can use your credit through PayPal as all major credit card are accepted by PayPal.
We accept PayPal for all international orders, your address must be verified with PayPal.
We are not responsible for any custom duties or brokerage fees that may apply for all international orders.
When you click on the Buy it Now button you are entering into a
contract whereby you agree to purchasing the item at the price listed.
If you want to ship your item to an alternate address please add
that address on your PayPal account and use the address as the default
or confirmed address to pay us through PayPal
With Free Same Business Day Shipping we work to get you your order Fast. 
All orders over $500 will require a signature for delivery.
All pre-selected shipping rates and methods are for customers with a
valid residential or commercial address within the Contiguous 48 United
States (PO Boxes address may require additional charges).
P.O. Boxes, APO/FPO addresses, Alaska, Hawaii, Puerto Rico, Guam,
U.S. Virgin Islands, Northern Mariana Islands, American Samoa, Canada,
and other countries may require additional shipping fees. Please contact
a member of our team for detailed shipping charges.
Shipping is available only to PayPal verified addresses. When making
payment please confirm your address has been verified with PayPal. Once
payment is made shipping address can not be changed/altered. Payments
made using an unverified PayPal address will be refunded and order will
be canceled.

We will not accept request to change shipping address once payment
has been made. Please confirm your shipping address is up-to-date and
valid.
Typical handling time for orders is 1-business day. We do our best
to ship every package with-in 1 business day of receiving a cleared
payment. In some circumstances additional time may be need, in which
case we will contact buyer.
Shipped orders that are returned by the shipping company due to an
insufficient address or an undeliverable address will be refunded less a
20% restocking fee.
If package is refused or marked undeliverable and returned
back to us by the carrier, you will need to pay the shipping cost in
full to have the package sent back to you or we can refund the money
minus the cost of shipping
MISSING A PACKAGE?
If you have not received your package, but the tracking information shows that it was delivered,
please do the following within 36 hours of expected, stated delivery:
Verify the shipping address on the order is the address where you are looking for the package
Look for a notice of attempted delivery
Look around the delivery location for the package, or see if a neighbor has accepted the delivery
Be sure to double check your mailbox and other usual spots for package delivery
If you think that your package has been stolen, we will require a police report since this is now theft.
Once we have a police report on file for the stolen package, we will reship your order.