Check if this fits
your vehicle
Change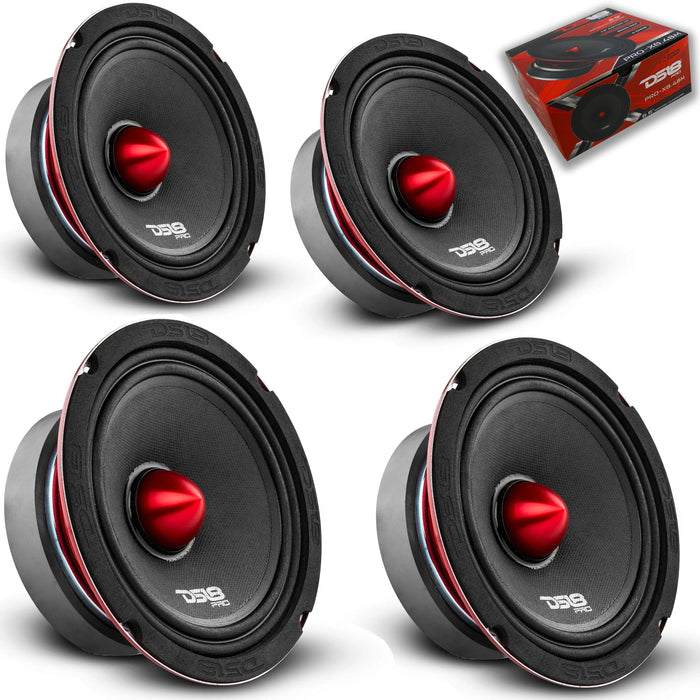 DS18 4x 6.5" Midrange Loudspeakers 2000W PRO-X6.4BM w/ 4-Channel Amplifier ZXI.4
DS18 Combo Pack of 4 Car Audio 6.5" Midrange Loudspeakers 2000 Watts 4 Ohm /w Bullet PRO-X6.4BM and a DS18 4 Channel Full Range Amplifier Elite 4 Ohm 600 Watt Class D ZXI.4

With strong midrange and clear high frequencies, these speakers deliver a concert-like audio experience without any distortion. Even better, the 1.5" 4-ohms voice coil handles high heat temperatures without breaking a sweat so you can blast your favorite music on a regular basis for extended periods of time.

The high 94dB sensitivity of the PRO-X6.4BM lets you crank up the volume without any sound distortion, while the 125Hz to 12KHz frequency provides richer and more accurate tones that any audiophile will immediately notice. These loudspeakers can also handle up to 250 Watts RMS, making it capable of handling consistent and heavy usage. Put this baby on max volume and enjoy extreme volume levels with crystal clarity!

Over time evolution is inevitable. The same can be said for DS18's new Z series model of amplifiers! We took one of our best selling lines and upgraded every aspect of it. They now put out even more power, have more top of the line components, and are guaranteed to deliver amazing quantities of RMS power on demand. The previous Z series was very powerful to begin with and we packed all new DS18 branded boards with much more efficient electronics, and with all new heat sync casings to make an amazing amp line even more perfect for your needs. You have your pick of multiple 2 channel, 4 channel, and Monoblock amps in this line to power every aspect of your DS18 audio system.

---------------------------------------------------------------

This listing includes:
(4) DS18 6.5" Loudspeakers PRO-X6.4BM
(1) DS18 4 Channel Amplifier ZXI.4

---------------------------------------------------------------

SPECIFICATIONS AND FEATURES PER INDIVIDUAL PRO-X6.4BM LOUDSPEAKER:

FEATURES:
- 6.5? Midrange Loudspeaker with Bullet Dust Cap
- MAX Power Handling: 500 Watts
- RMS Power Handling: 250 Watts
- Frequency Response: 125Hz-12Khz
- Voice Coil Diameter: 1.5?
- Voice Coil Material: Kapton
- Impedance: 4-Ohms
- Sensitivity (1W/1M): 94dB
- Magnet Weight: 30 Oz
- Magnet Material: Ferrite
- Mounting Depth: 2.44?

SPECIFICATIONS:
Model: PRO-X6.4BM
Type: Midrange Loudspeaker
Size: 6.5"
Nominal Diameter: 6.5" (165.1mm)
Nominal Impedance: 4 Ohm
MAX Power Handling: 500 Watts
RMS Power Handling: 250 Watts
Sensitivity (1w/1m): 94 dB
Frequency Response: 125Hz ~ 12KHz
Recommended HI Pass Crossover: 120Hz

MOTOR:
Voice Coil Diameter: 1.5"
Voice Coil Former Material: Kapton
Winding Material: CCAW
Cone Material: Non-press Paper
Surround Material: Cloth Edge
Basket Material: Steel
Magnet Material: Ferrite
Magnet Weight: 30 Oz

THIELE & SMALL PARAMETERS:
Equivalent Volume: Vas - 3.810L
Excursion: X-max - 8.2mm
Free Air Resonance: Fs - 106Hz
Mechanical Factor: Qms - 8.027
Electrical Factor: Qes - 0.471
Total Factor: Qts - 0.445
Dc Resistance: Re - 3.2 Ohm

DIMENSIONS PER SPEAKER:
Overall Diameter: 6.61" (168mm)
Front Mount Baffle Cutout: 5.7" (145mm)
Mounting Depth: 2.44" (62mm)
Overall Depth: 2.72" (69mm)

---------------------------------------------------------------

SPECIFICATIONS AND FEATURES OF ZXI.4 AMPLIFER:

FEATURES:
- Elegant design that retains very high durability with incorporated high efficiency heat sync.
- High quality circuit board to give the most power with the highest efficiency rate providing high power on demand.
- Easily tuned crossover and gain controls for the perfect sound settings in your vehicle.

SPECIFICATIONS:
Model: ZXI.4
Class: D
Number of Channels: 4
RMS Power @ 4 Ohm: 125W x 4CH
RMS Power @ 2 Ohm: 185W x 4CH
RMS Power @ 4 Ohm Bridge: 370W x 4CH
Peak Power @ 4 Ohm: 200W x 4CH
Peak Power @ 2 Ohm Bridge: 300W x 4CH
Peak Power @ 4 Ohm Bridge: 600W x 2CH
Minimum Impendence: 2 Ohm
Frequency Response: 20 ~ 20KHz
Total Harmonic Distortion: 0.10%
Input Sensitivity: 0.2 ~ 6V
Signal/Noise Ratio: Less than 90dB
LED Power and Protection Indicator
Crossover High Pass: 40 ~ 4KHz
Crossover Low Pass: 40 ~ 4KHz
Bass Boost: 0 ~ 18dB
Operation Voltage: 8.5 ~ 16.8V
Fuse Rating: 40A x 2
Power Input Size: 4 GA

DIMENSIONS:
Length: 9.5"
Width: 5.7"
Height: 1.9"

Payment Information
We accept PayPal for all ebay orders. You can use your credit through PayPal as all major credit card are accepted by PayPal.
We accept PayPal for all international orders, your address must be verified with PayPal.
We are not responsible for any custom duties or brokerage fees that may apply for all international orders.
When you click on the Buy it Now button you are entering into a
contract whereby you agree to purchasing the item at the price listed.
If you want to ship your item to an alternate address please add
that address on your PayPal account and use the address as the default
or confirmed address to pay us through PayPal
With Free Same Business Day Shipping we work to get you your order Fast. 
All orders over $500 will require a signature for delivery.
All pre-selected shipping rates and methods are for customers with a
valid residential or commercial address within the Contiguous 48 United
States (PO Boxes address may require additional charges).
P.O. Boxes, APO/FPO addresses, Alaska, Hawaii, Puerto Rico, Guam,
U.S. Virgin Islands, Northern Mariana Islands, American Samoa, Canada,
and other countries may require additional shipping fees. Please contact
a member of our team for detailed shipping charges.
Shipping is available only to PayPal verified addresses. When making
payment please confirm your address has been verified with PayPal. Once
payment is made shipping address can not be changed/altered. Payments
made using an unverified PayPal address will be refunded and order will
be canceled.

We will not accept request to change shipping address once payment
has been made. Please confirm your shipping address is up-to-date and
valid.
Typical handling time for orders is 1-business day. We do our best
to ship every package with-in 1 business day of receiving a cleared
payment. In some circumstances additional time may be need, in which
case we will contact buyer.
Shipped orders that are returned by the shipping company due to an
insufficient address or an undeliverable address will be refunded less a
20% restocking fee.
If package is refused or marked undeliverable and returned
back to us by the carrier, you will need to pay the shipping cost in
full to have the package sent back to you or we can refund the money
minus the cost of shipping
MISSING A PACKAGE?
If you have not received your package, but the tracking information shows that it was delivered,
please do the following within 36 hours of expected, stated delivery:
Verify the shipping address on the order is the address where you are looking for the package
Look for a notice of attempted delivery
Look around the delivery location for the package, or see if a neighbor has accepted the delivery
Be sure to double check your mailbox and other usual spots for package delivery
If you think that your package has been stolen, we will require a police report since this is now theft.
Once we have a police report on file for the stolen package, we will reship your order.