Check if this fits
your vehicle
Change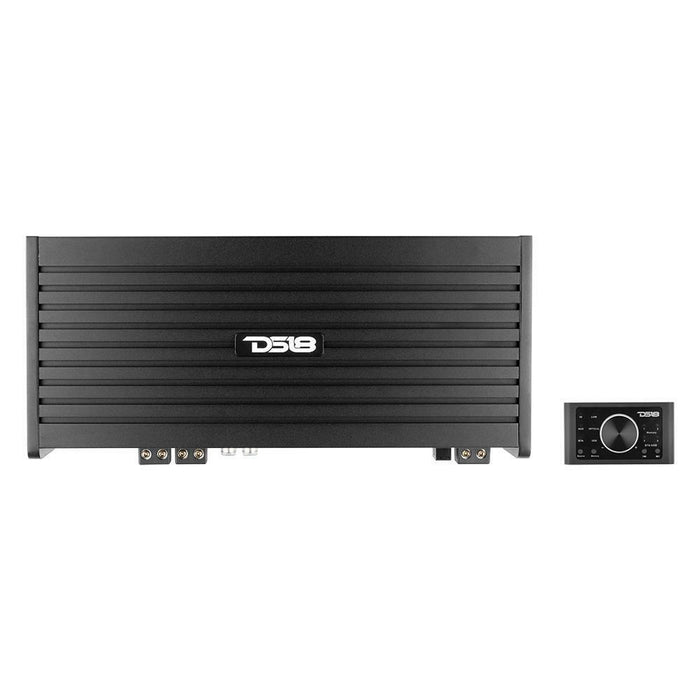 DS18 DSP8.6iA 6 Channel Amplifier w/ 8-Channel Digital Sound Processor
DS18 DSP8.6iA 6 Channel Amplifier w/ 8-Channel Digital Sound Processor
Take complete control of your audio system with DS18's new line of Digital Sound Processors! Now you can control every aspect of your audio system with ease with precise filtering settings. The DSP6iA gives you many highways in which you can fine tune your audio.
This DSP comes with a built in amplifier which yields 70 watts rms per 6 channels @4ohms. Channels 5/6 can be bridged for a subwoofer that will get you 240w rms @4 ohms bridged.
The DSP6iA will be hooked up directly to your PC (not mac compatible) or laptop for a multitude of tuning options that are just a few mouse clicks away. Also included is an easy to use wired controller that acts as an interface for song switching, volume, and your saved presets. This unit has an included BT receiver so you do not even need a head unit. You can stream directly from your phone if you so wish, which makes the versitility of this DSP immeasurable.
The software is downloaded at ds18.tools and does not take a high learning curve to master. Each input can be adjusted and summed. You can save your options and multiple presets for 6 channels, @6db/octave to 48db/octave, and visualization for your actual and simulated EQ curve.
This Listing Includes:
(1) DSP8.6iA
(1) User Manual
(1) Type-C USB cable(3m)
(1) High level IN cable(12pin)
(1) Remote controller
(1) Connecting cable for remote controller (5m)
(4) Installation Bracket
(4) Black self tapping Screw
(8) Hexagon socket screw
(1) 2.5mm Allen wrench?
Features:
- Blue Tooth streaming so you can use your smartphone, tablet, or laptop for endless music.
- Built in amplifier that gives 70w rms @4ohms x6 channels. Channels 5/6 can be bridged for a subwoofer and will give 240w @4ohms bridged.
- Easy to use software found at ds18.tools to fine tune and monitor every aspect of your signal processing.
- Wired controller that acts as a gateway to all your presets and also will control your volume, play list, and other functions you would normally need a head unit for.
- Multiple inputs such as 6ch high level, 2ch low level, Auxiliary, Optical, and USB to get you a highway of musical paths.
Specifications:
80 Watts RMS @ 4-Ohm x 6 Channels
130 Watts RMS @ 2 Ohm x 2 (Ch5/Ch6 Only)
260 Watts RMS @ 4 Ohm x 1 Bridged (Ch5/Ch6 Only)
Working Voltage: DC 7.5-16V
REM input voltage: 9-16V
REM output voltage: DC12.8V (0.5A
THD @1KHz, 1V Rated Power Output: 0.02%
Band width @-3dB: 10-21KHz
Signal-to-noise ratio @ A weighted: More than 95dB
Channel Separation @ 1kHz: More Than 60dB
Input sensitivity (AUX in): 2mV - 2V
Input sensitivity (high level): 8mV - 10V
Input impedance?? ?low level: 22K / high level : 36
Maximum output level (RMS) @ 0.1% THD: 2V
High level input: Up to 6channel
Auxiliary input: Stereo
Optical Input: Stereo( 96kHz/24bit)
Bluetooth input: Stereo
Low level (PRE) output: Up to 2channel?
Dimensions (LxWxH): 320mm x 143mm x 56mm
Payment Information
We accept PayPal for all ebay orders. You can use your credit through PayPal as all major credit card are accepted by PayPal.
We accept PayPal for all international orders, your address must be verified with PayPal.
We are not responsible for any custom duties or brokerage fees that may apply for all international orders.
When you click on the Buy it Now button you are entering into a
contract whereby you agree to purchasing the item at the price listed.
If you want to ship your item to an alternate address please add
that address on your PayPal account and use the address as the default
or confirmed address to pay us through PayPal
With Free Same Business Day Shipping we work to get you your order Fast. 
All orders over $500 will require a signature for delivery.
All pre-selected shipping rates and methods are for customers with a
valid residential or commercial address within the Contiguous 48 United
States (PO Boxes address may require additional charges).
P.O. Boxes, APO/FPO addresses, Alaska, Hawaii, Puerto Rico, Guam,
U.S. Virgin Islands, Northern Mariana Islands, American Samoa, Canada,
and other countries may require additional shipping fees. Please contact
a member of our team for detailed shipping charges.
Shipping is available only to PayPal verified addresses. When making
payment please confirm your address has been verified with PayPal. Once
payment is made shipping address can not be changed/altered. Payments
made using an unverified PayPal address will be refunded and order will
be canceled.

We will not accept request to change shipping address once payment
has been made. Please confirm your shipping address is up-to-date and
valid.
Typical handling time for orders is 1-business day. We do our best
to ship every package with-in 1 business day of receiving a cleared
payment. In some circumstances additional time may be need, in which
case we will contact buyer.
Shipped orders that are returned by the shipping company due to an
insufficient address or an undeliverable address will be refunded less a
20% restocking fee.
If package is refused or marked undeliverable and returned
back to us by the carrier, you will need to pay the shipping cost in
full to have the package sent back to you or we can refund the money
minus the cost of shipping
MISSING A PACKAGE?
If you have not received your package, but the tracking information shows that it was delivered,
please do the following within 36 hours of expected, stated delivery:
Verify the shipping address on the order is the address where you are looking for the package
Look for a notice of attempted delivery
Look around the delivery location for the package, or see if a neighbor has accepted the delivery
Be sure to double check your mailbox and other usual spots for package delivery
If you think that your package has been stolen, we will require a police report since this is now theft.
Once we have a police report on file for the stolen package, we will reship your order.