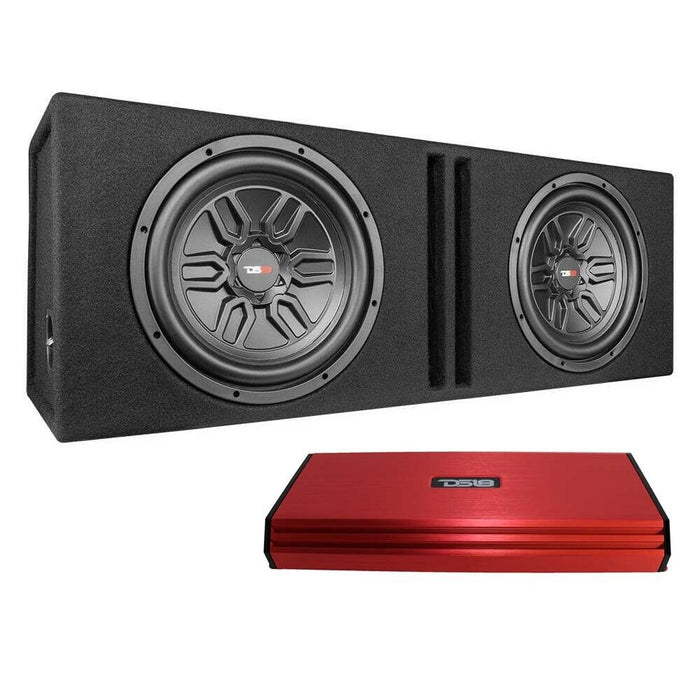 DS18 LSE-212A 12" 1000W 4 Ohm Dual Loaded Ported Enclosure w/ Amplifier/Amp kit
DS18 LSE-212A 12" 1000W 4 Ohm Dual Loaded Ported Enclosure w/ Amplifier/Amp kit
Looking for that perfect bass package but are overwhelmed by all the options? We have made it easy with our loaded subwoofer box the LSE112A! This is a prefabricated box that comes with one of our best selling subwoofers. Included is a beautiful carpeted box with DS18 logo designs tuned to 35 hz. The box is constructed by thick 1/2 MDF for great sound and resonance. The sub included is the very popular MD12 that is a single voice coil 4 ohm sub with a nominal impedance of 4 ohms that will require 250w rms. This loaded box is a great entry level solution to hard hitting heavy bass for all to enjoy.?
This listing includes:?
(1) S-1500.1 Amplifier?
(1) SLC-MD12 Subwoofer Dual Loaded Ported Box
(1) 4-GA Amp Kit Which Includes:
- AGU Fuse Holder with AGU-100A?
- 6ft. 4GA Loom Tube?
- Rubber Grommet?
- 17ft. Red power cable: 21mm? od: 10mm?
- 3ft. Black ground cable: 21mm? od: 10mm?
- 17ft. Red/black twisted RCA cable?
- 17ft. Turn-on cable: 20*0.15mm?
- 17ft. Red/black speaker cable: 1.31mm? x 2 wires od 3.2 x 6.4mm?
Features:?
- The box is constructed of 1/2 inch MDF for great strength, resonance, and tuned to 35hz for low hitting bass.?
- One SLC 12-inch sub will give you the cone area to push out great-sounding bass without a lot of power requirements.?
- Great design and carpeting with DS18 logos to give your system the flair it deserves and also bring a show-quality look.?
- Great durability so you can enjoy hard-hitting bass for years to come.?
General Specifications:
Speaker Size: Single 12"
Total Impedance: 4 ohms
Total RMS Power Handling: 250 watts
Total MAX Power Handling: 500 watts
Sensitivity (1w/1m): 93 db
Frequency Response: 29-250hz
Recommended Lo Pass Crossover: 80 Hz
Amplifier Specifications:
Model: S-1500.1
Circuit Topology: Class AB Monoblock Amplifier
RMS Power Output @ 2 OHMS: 350 watts
RMS Power Output @ 4 OHMS: 220 watts
Total Harmonic Distortion: Less Than 3%
S/N Ratio Ref 1w @ 4 OHMS: More Than 90 db
Gain Range: 0.2-6V
Crossover Range: 50-250hz
Frequency Range: 20Hz-500 Hz
Dimensions: 13.7"/348mm x 5.8"/148mm x 1.8" / 47.5mm
Subwoofer Specifications (Per Subwoofer):
Model: SLC-MD12
Type: Subwoofer
Size: 12"
RMS Power: 250W
MAX Power: 500W
Impedance: 4
Voice Coil Size: 2"
Magnet: Ferrite
Magnet Size: 42 oz
Voice Coil Diameter: 50.8mm (2")
Voice Coil Former Material: Aluminum
Winding Material: ACCAW
Cone Material: PPI
Surround Material: Rubber
Basket Material: Steel
Magnet Material: Ferrite
Magnet Weight: 42 oz
Box Specifications:?? ??
Port Tune: 35hz?
Dust Cap Material: 45.3L?
Load Configuration: Front Ported?
Box Material: 1/2" MDF?
Finish Material: Vinyl?
Dimensions/Measurements:?
Height: 13.78" / 350mm?
Width: 19.68" / 500mm?
Depth 1: 11" / 280mm?
Depth 2: 14" / 356mm
Payment Information
We accept PayPal for all ebay orders. You can use your credit through PayPal as all major credit card are accepted by PayPal.
We accept PayPal for all international orders, your address must be verified with PayPal.
We are not responsible for any custom duties or brokerage fees that may apply for all international orders.
When you click on the Buy it Now button you are entering into a
contract whereby you agree to purchasing the item at the price listed.
If you want to ship your item to an alternate address please add
that address on your PayPal account and use the address as the default
or confirmed address to pay us through PayPal
With Free Same Business Day Shipping we work to get you your order Fast. 
All orders over $500 will require a signature for delivery.
All pre-selected shipping rates and methods are for customers with a
valid residential or commercial address within the Contiguous 48 United
States (PO Boxes address may require additional charges).
P.O. Boxes, APO/FPO addresses, Alaska, Hawaii, Puerto Rico, Guam,
U.S. Virgin Islands, Northern Mariana Islands, American Samoa, Canada,
and other countries may require additional shipping fees. Please contact
a member of our team for detailed shipping charges.
Shipping is available only to PayPal verified addresses. When making
payment please confirm your address has been verified with PayPal. Once
payment is made shipping address can not be changed/altered. Payments
made using an unverified PayPal address will be refunded and order will
be canceled.

We will not accept request to change shipping address once payment
has been made. Please confirm your shipping address is up-to-date and
valid.
Typical handling time for orders is 1-business day. We do our best
to ship every package with-in 1 business day of receiving a cleared
payment. In some circumstances additional time may be need, in which
case we will contact buyer.
Shipped orders that are returned by the shipping company due to an
insufficient address or an undeliverable address will be refunded less a
20% restocking fee.
If package is refused or marked undeliverable and returned
back to us by the carrier, you will need to pay the shipping cost in
full to have the package sent back to you or we can refund the money
minus the cost of shipping
MISSING A PACKAGE?
If you have not received your package, but the tracking information shows that it was delivered,
please do the following within 36 hours of expected, stated delivery:
Verify the shipping address on the order is the address where you are looking for the package
Look for a notice of attempted delivery
Look around the delivery location for the package, or see if a neighbor has accepted the delivery
Be sure to double check your mailbox and other usual spots for package delivery
If you think that your package has been stolen, we will require a police report since this is now theft.
Once we have a police report on file for the stolen package, we will reship your order.