Check if this fits
your vehicle
Change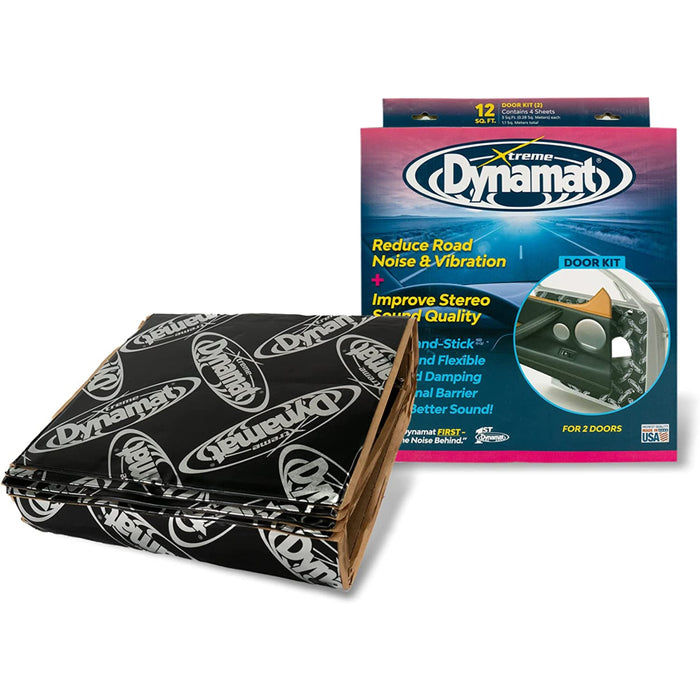 Dynamat Xtreme Car Audio Door Kit Sound Deadening Damping 12x36 Sheets 4 Pack
WHAT'S IN THE BOX: The Dynamat Xtreme Door kit contains four 12 in x 36 in (305mm x 914mm) pieces of Dynamat Xtreme. Kit includes enough material for two standard size doors
DYNAMAT XTREME HAS OUR PROPRIETARY BUTYL RUBBER CORE constrained by a 4 mil aluminum layer. It minimizes high levels of noise that cause driver fatigue and irritation
CONFORMS EASILY to all interior surfaces and is very moldable
STRONG ADHESIVE the extra sticky, patented butyl rubber layer will adhere to a surface and stay in place
100% MADE IN THE USA simple to install for proper installation use one of our Dynaroller tools
Dynamat Xtreme Car Audio Door Kit Sound Deadening Damping 12x36" Sheets 4 Pack
This listing includes:


(4) Dynamat Xtreme 12x36" Adhesive Sheets 12SQ FT


Stop Vibrating Sheet Metal and Road Noise!
High vehicle noise levels cause driver fatigue and irritation, and will affect the way music sounds out of speakers. When the vehicle is noisy, music and conversations can sound unclear and distorted. Dynamat Xtreme is the highest efficiency sound damping material available and the most effective product for stopping noise and vibration in your automobile.
Dynamat Xtreme is a patented, light-weight, elastomeric, butyl and aluminum constrained-layer vibrational damper. Dynamat Xtreme conforms and fuses easily to sheet metal and other hard substrates. Material performance is optimized for temperature ranges between -10C to +60C (14F to+140F). Material can withstand temperature extremes between -54C to +149C (-65F to +300F) and is highly resistant to aging.
SPECIFICATIONS:


Appearance: Black butyl based core with 4 mil aluminum


constraining layer, craft paper release liner


Thickness: 0.067" (1.7mm)


Mass: 0.45lbs./ft.2 (2.20kg/m2)


Acoustic Loss Factor @ Temperature


(Using ASTM method E756 @ 200 Hz):


0.081 @ +14F (-10C)


0.240 @ +32F (+0C)


0.257 @ +50F (+10C)


0.417 @ +68F (+20C)


0.259 @ +86F (+30C)


0.194 @ +104F (+40C)


0.140 @ +122F (+50C)


0.094 @ +140F (+60C)


Temperature Range (Optimal Performance):


14F to +140F (-10C to +60C)


Temperature Range (Resistance):


-65F to +300F (-54C to +149C)


Adhesive Peel Strength: 42.6 lb./in. (74.8 N/cm) on cold steel


Chemical Resistance: Resistant to water and mineral oils


Payment Information
We accept PayPal for all ebay orders. You can use your credit through PayPal as all major credit card are accepted by PayPal.
We accept PayPal for all international orders, your address must be verified with PayPal.
We are not responsible for any custom duties or brokerage fees that may apply for all international orders.
When you click on the Buy it Now button you are entering into a
contract whereby you agree to purchasing the item at the price listed.
If you want to ship your item to an alternate address please add
that address on your PayPal account and use the address as the default
or confirmed address to pay us through PayPal
With Free Same Business Day Shipping we work to get you your order Fast. 
All orders over $500 will require a signature for delivery.
All pre-selected shipping rates and methods are for customers with a
valid residential or commercial address within the Contiguous 48 United
States (PO Boxes address may require additional charges).
P.O. Boxes, APO/FPO addresses, Alaska, Hawaii, Puerto Rico, Guam,
U.S. Virgin Islands, Northern Mariana Islands, American Samoa, Canada,
and other countries may require additional shipping fees. Please contact
a member of our team for detailed shipping charges.
Shipping is available only to PayPal verified addresses. When making
payment please confirm your address has been verified with PayPal. Once
payment is made shipping address can not be changed/altered. Payments
made using an unverified PayPal address will be refunded and order will
be canceled.

We will not accept request to change shipping address once payment
has been made. Please confirm your shipping address is up-to-date and
valid.
Typical handling time for orders is 1-business day. We do our best
to ship every package with-in 1 business day of receiving a cleared
payment. In some circumstances additional time may be need, in which
case we will contact buyer.
Shipped orders that are returned by the shipping company due to an
insufficient address or an undeliverable address will be refunded less a
20% restocking fee.
If package is refused or marked undeliverable and returned
back to us by the carrier, you will need to pay the shipping cost in
full to have the package sent back to you or we can refund the money
minus the cost of shipping
MISSING A PACKAGE?
If you have not received your package, but the tracking information shows that it was delivered,
please do the following within 36 hours of expected, stated delivery:
Verify the shipping address on the order is the address where you are looking for the package
Look for a notice of attempted delivery
Look around the delivery location for the package, or see if a neighbor has accepted the delivery
Be sure to double check your mailbox and other usual spots for package delivery
If you think that your package has been stolen, we will require a police report since this is now theft.
Once we have a police report on file for the stolen package, we will reship your order.