Check if this fits
your vehicle
Change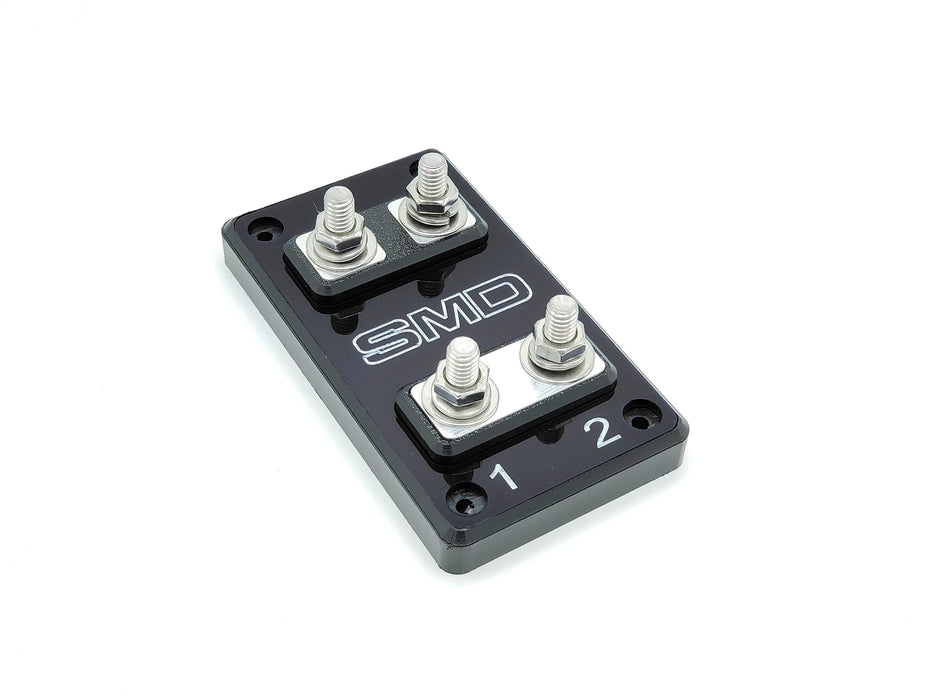 Steve Meade Designs Heavy Duty Industrial ANL Double Fuse Block SMD-DOUBLEFB
High-temperature injection-molded body
3/16" Clear Acrylic cover
Recommended mounting location within 18" of power source
Steve Meade Designs Heavy Duty Industrial ANL Double Fuse Block SMD-DOUBLEFB

This listing includes:

(1) Heavy Duty Industrial ANL Double Fuse Block
The SMD Double ANL Fuse Block is a must-have product for anyone looking to protect their vehicle from potential fires and catastrophic damage caused by short circuits. Whether you have a powerful aftermarket sound system or other aftermarket/auxiliary accessories like lighting, winches, or air pumps, this fuse block will ensure your vehicle is safe and secure.
What sets this product apart is its impeccable quality. It is proudly made 100% in the U.S.A. at the SMD headquarters, guaranteeing the highest standards of craftsmanship. The fuse holder is constructed from HDPE, a durable material that can withstand tough conditions. It is complemented by the use of metals such as Aluminum, Stainless Steel, and Copper, which further enhance its robustness and longevity. The fuse block also features a 3/16" Clear Acrylic cover, providing an added layer of protection against accidental contact with live terminals.
Designed to endure the elements, this fuse block is built to last for many years of reliable service. While it is recommended to mount it under the hood in the engine compartment, it can also be conveniently installed in the cabin or trunk. Its corrosion-resistant properties make it suitable for marine applications, ensuring it remains in optimal condition even in harsh environments.
For optimum performance, it is recommended to mount the fuse block within 18" of the power source, such as the front battery, alternator, or any auxiliary battery bank. With dimensions of 5" x 2.812" x 2" (LxWxH), this compact fuse block can easily be integrated into your vehicle without causing any inconvenience.
Invest in the SMD Double ANL Fuse Block and have peace of mind knowing that your vehicle and its aftermarket accessories are protected against potential dangers. With its exceptional quality, durability, and versatility, this fuse block is an essential addition to every vehicle owner's safety measures.



Features:

- Injection-molded

- High-temperature model

- Aluminum bar and landing

- 0.2 '' Clear Acrylic Cover



Dimension

5.04 x 2.6 x 2.36 inches
Payment Information
We accept PayPal for all ebay orders. You can use your credit through PayPal as all major credit card are accepted by PayPal.
We accept PayPal for all international orders, your address must be verified with PayPal.
We are not responsible for any custom duties or brokerage fees that may apply for all international orders.
When you click on the Buy it Now button you are entering into a
contract whereby you agree to purchasing the item at the price listed.
If you want to ship your item to an alternate address please add
that address on your PayPal account and use the address as the default
or confirmed address to pay us through PayPal
With Free Same Business Day Shipping we work to get you your order Fast. 
All orders over $500 will require a signature for delivery.
All pre-selected shipping rates and methods are for customers with a
valid residential or commercial address within the Contiguous 48 United
States (PO Boxes address may require additional charges).
P.O. Boxes, APO/FPO addresses, Alaska, Hawaii, Puerto Rico, Guam,
U.S. Virgin Islands, Northern Mariana Islands, American Samoa, Canada,
and other countries may require additional shipping fees. Please contact
a member of our team for detailed shipping charges.
Shipping is available only to PayPal verified addresses. When making
payment please confirm your address has been verified with PayPal. Once
payment is made shipping address can not be changed/altered. Payments
made using an unverified PayPal address will be refunded and order will
be canceled.

We will not accept request to change shipping address once payment
has been made. Please confirm your shipping address is up-to-date and
valid.
Typical handling time for orders is 1-business day. We do our best
to ship every package with-in 1 business day of receiving a cleared
payment. In some circumstances additional time may be need, in which
case we will contact buyer.
Shipped orders that are returned by the shipping company due to an
insufficient address or an undeliverable address will be refunded less a
20% restocking fee.
If package is refused or marked undeliverable and returned
back to us by the carrier, you will need to pay the shipping cost in
full to have the package sent back to you or we can refund the money
minus the cost of shipping
MISSING A PACKAGE?
If you have not received your package, but the tracking information shows that it was delivered,
please do the following within 36 hours of expected, stated delivery:
Verify the shipping address on the order is the address where you are looking for the package
Look for a notice of attempted delivery
Look around the delivery location for the package, or see if a neighbor has accepted the delivery
Be sure to double check your mailbox and other usual spots for package delivery
If you think that your package has been stolen, we will require a police report since this is now theft.
Once we have a police report on file for the stolen package, we will reship your order.